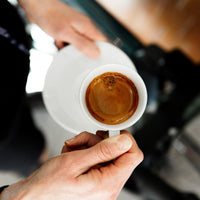 This is a dark roast espresso with an Italian bite and a chocolatey mouthfeel. It will catch the wind, make your step a little lighter and your wheels run a little longer.
This blend is made of two different coffees from producers with whom we have had long-standing relationships. Both coffees are 100% Arabica and of course of speciality coffee grade.

All profit goes to the Lisa Nordén Foundation which works to promote children's entry into triathlon and endurance sports.


LUIS BALLADAREZ, NICARAGUA
We have had the pleasure of working with Luis since 2010, making him one of the producers we have worked with the longest. Despite many years together, it never gets boring - quite the opposite actually! Luis impresses and surprises us time after time again and his coffee maintains an incredibly high quality - year after year. It is such an amazing gift to be working with a producer who retains his curiosity, never loses the will to develop, and works hard to always deliver the best.
SERGIO FRANCISCO, BRAZIL

We have been buying coffee from Fazenda Agua Limpa in Brazil since 2015. Since the start, they have delivered for an incredibly even and high quality, and the coffee has been a part of many of our coffee blends. The farm is an example when it comes to professionalism and accuracy and has for several also shown great commitment to help people with work and education through their coffee production.
LISA NORDÉN FOUNDATION
The beginning of a lifelong athletic journey through triathlon!
The foundation enables sustainable sports in a positive context through triathlon training for children and young people, all the way from a first encounter with the sport to an opportunity to pursue it at a high level. Time in nature, better health, the joy of movement, and mental well-being are all extra benefits they receive along the way! Read more here.